How has the COVID pandemic affected your relationship with the environment? How can lessons learned help ensure a more sustainable future?
This project was developed jointly by the Loving Earth Project and Sustainable Merton.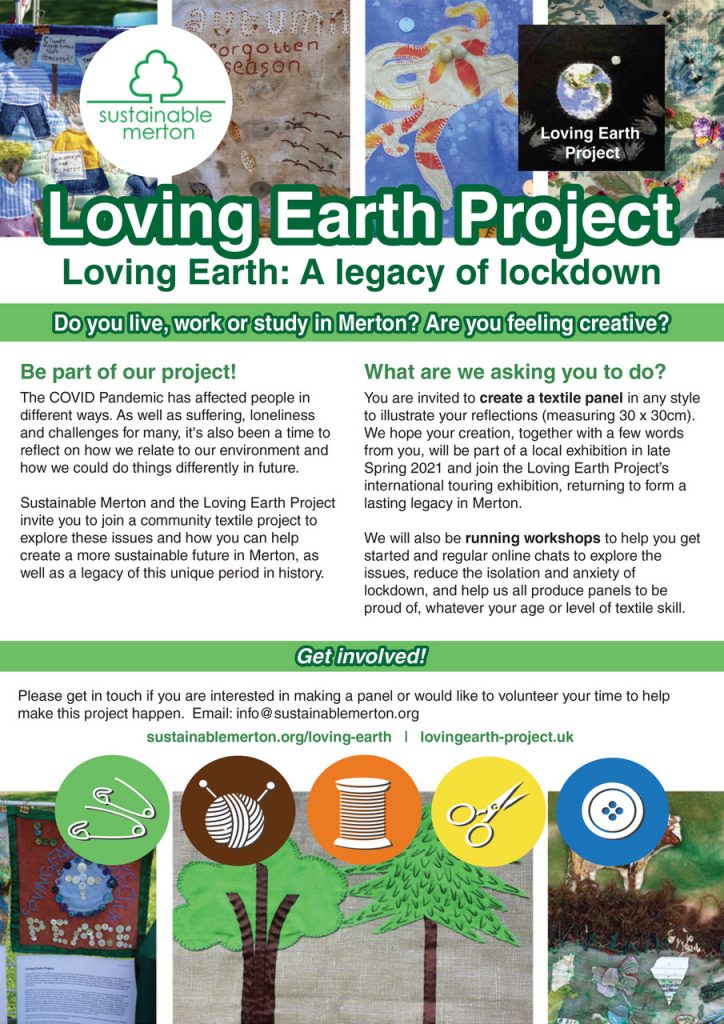 You are welcome to download the guidance below and the Lockdown Legacy meditation, to share and use in your own community or by yourself. If you choose to do this, Please don't forget that textile panels should be 30x30cm square, accompagnied by a short text. Please email us with any queries and let us know when your panel is complete . We can then let you know where to send it (which will depend on Covid developments).
Here is a guided meditation to help you reflect on your experience of the COVID lockdown and its impact on you and your environment.
To book events organised by Sustainable Merton or for more information about the planned exhibition, please contact them at info@sustainablemerton.org.
LOVING EARTH STITCH WORKSHOPS Lottie Percival, one of the faciltators of these Lockdown Legacy Workshops, and who made the textile videos for us, will be running some independent stitch workshops for people who would like to learn new stitches – to use on their panel and for other needlework in future.
The Friends Quarterly Issue 3/2020 includes articles : Fostering leadings of love through the Loving Earth Project, by Linda Murgatroyd, and Learning from Covid-19 for climate action: a perspective for the Quaker United Nations Office, by Lindsey Fielder Cook. It can be purchased from https://thefriend.org/magazine/tfq