View Calendar
2023-04-03 - 2023-04-12 All day
The LEP panels will be in the exhibition space at The Station, Richmond, North Yorkshire 
www.thestation.co.uk
 from 30th March and running until 12th April 2023.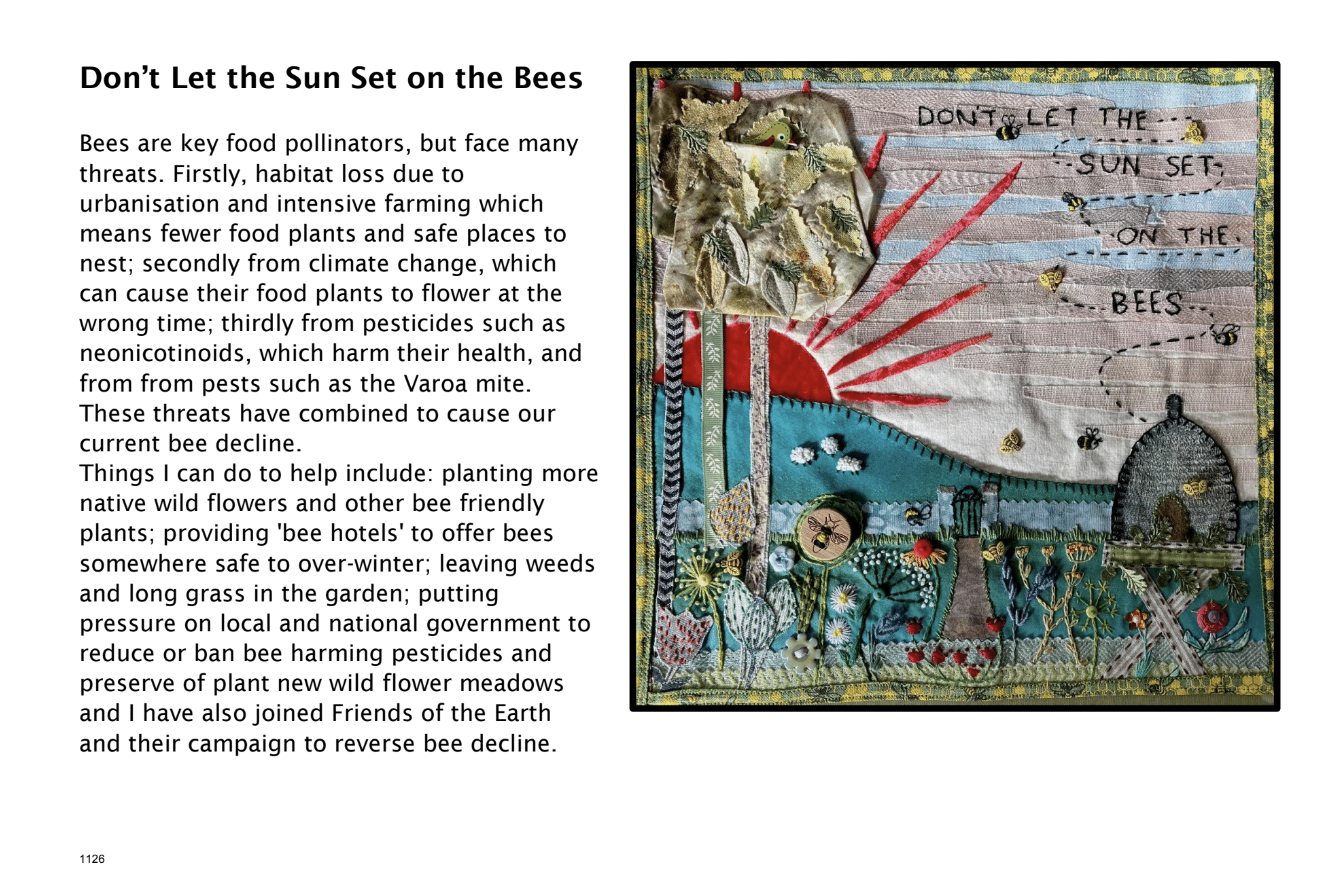 The Richmondshire  Refugee Support Group is working with some recently arrived refugee women from Syria, Iraq and Afghanistan  and they will be running a series of workshops throughout the rest of 2022, as well as the refugee women they will have local women from textile groups involved.
They have started introducing the women to different textile techniques and are planning on walks in the surrounding countryside where they will start to discuss the impacts of climate  change.
Related upcoming events
2023-02-13 10:00 - 2023-02-13 12:00

Please download the Poster to see all the planned fortnightly Monday Morning Workshops via this link:

2023-02-17 23:28 - 2023-03-17 23:29

An exhibition of panels from the Loving Earth Project  at Portcullis House, Westminster  from 17 February to 17 March is being planned.

Details to follow.

2023-02-27 - 2023-03-24 All day

This exhibition coincides with GoGreenSalford month (March) and will be at the University of Salford, MediaCity Campus https://www.salford.ac.uk/our-facilities/mediacity-campus

University of Salford
Orange Tower, Plot B4
Mediacity
Salford
M50 2HE

2023-02-27 10:00 - 2023-02-27 12:00

Please download the Poster to see all the planned fortnightly Monday Morning Workshops via this link:

2023-03-13 10:00 - 2023-03-13 12:00

Please download the Poster to see all the planned fortnightly Monday Morning Workshops via this link:

2023-03-31 - 2023-04-12 All day

The LEP panels will be in the exhibition space at The Station, Richmond, North Yorkshire 

www.thestation.co.uk

 from 31th March and running until 12th April 2023.

All details here:

https://www.thestation.co.uk/Whats-On/Events/caring-for-the-world-we-love-and-the-people-in-it-loving-earth-project-richmondshire

Loving Earth - Healing Through Creativity, has involved the Loving Earth Project and a local refugee support group of volunteers and women and children from Syria, Iraq and Afghanistan who are resettling in Richmondshire.

The project has been led by community textile artist, Kathryn Guy. 

A community textile project is a central part of involvement in the Loving Earth Project as the process of making a textile panel creates space for reflection and opportunities for conversations and development of skills.

Over the past year, Kathryn has delivered textile workshops to local women and children resettled in the area, where all have engaged successfully with the themes of the Loving Earth Project. These have produced many wonderful examples of creative upcycling.

The work of the group will be exhibited along with a selection of textile panels on loan from the Loving Earth National Project Archive. 

As well as showcasing the work of the project, the exhibition will also include an artistically curated journey from beginning to end, demonstrating face to face textile workshops with their specialist tutor, Kathryn.

There will be visual graphics of workshops, participants enjoying time in the Yorkshire Dales National Park, meeting crafters in the local community, sharing and developing new skills and supporting mental health and wellbeing.

The project has been made possible through NYCC Resettlement and Stronger Communities funding.

2023-04-01 - 2023-04-12 All day

The LEP panels will be in the exhibition space at The Station, Richmond, North Yorkshire 

www.thestation.co.uk

 from 30th March and running until 12th April 2023.

The Richmondshire  Refugee Support Group is working with some recently arrived refugee women from Syria, Iraq and Afghanistan  and they will be running a series of workshops throughout the rest of 2022, as well as the refugee women they will have local women from textile groups involved.

They have started introducing the women to different textile techniques and are planning on walks in the surrounding countryside where they will start to discuss the impacts of climate  change.

2023-04-01 12:42 - 2023-04-30 12:42

Loving Earth panels will be on display in Sacramento, California and elsewhere in the USA in Spring 2023.

Panels will be at Sacramento's Museum of Science and Curiosity for the whole month. This is a wonderful new venue with interactive exhibits for children of all ages. They have about 600 visitors a day. The panels will hang in the main corridor leading to their nature & environment wing.

Smaller exhibits will also be on display on weekends in Sacramento at a Catholic parish, Sacramento Meetinghouse, and a Unitarian church.
The Atrium Art Cafe in Old Sacramento will have panels exhibited for the week leading up to Earth Day. This is a storefront that hosts exhibits and also invites people come in and create artwork. We plan to provide supplies for people to draw paper panels using the three LEP questions.
Chico CA Friends Meeting
Fresno CA Unitarian Church
Sacramento Earth Day 22 April

2023-04-03 - 2023-04-15 All day

This LEP Exhibition will be held at Ashburton Arts Centre and Ashburton Quaker Meeting House.,

More details to follow.

2023-04-08 - 2023-04-09 All day

Loving Earth panels will be on display in Sacramento, California.

Panels will be at Sacramento's Museum of Science and Curiosity for the whole month. This is a wonderful new venue with interactive exhibits for children of all ages. They have about 600 visitors a day. The panels will hang in the main corridor leading to their nature & environment wing.

Smaller exhibits will also be on display on weekends in Sacramento at a Catholic parish, Sacramento Meetinghouse, and a Unitarian church.
The Atrium Art Cafe in Old Sacramento will have panels exhibited for the week leading up to Earth Day. This is a storefront that hosts exhibits and also invites people come in and create artwork. We plan to provide supplies for people to draw paper panels using the three LEP questions.
Chico CA Friends Meeting
Fresno CA Unitarian Church
Sacramento Earth Day 22 April